Aeris | Marketing Newsletter Install Service
£19.00
✅ 43 Unique modules
✅ Online builder, no purchase code require
✅ Sketch file included
SKU:

Aeris | Marketing Newsletter
Categories: Marketing, Newsletters, Theme
Tags: active campaign, Aweber, campaign monitor, catalog, freshmail, getresponse, icontact, mailchimp, moosend, multipurpose, mymail, phplist, responsive, sendgrid, stampready
Description
How to Setup or Customise Aeris | Marketing Newsletter
Websites Are Us will setup configure or customise Aeris | Marketing Newsletter. Our team of Marketing developers understand how Aeris | Marketing Newsletter works inside and out, it was first released by nutzumi who is a talented Marketing developer. This Newsletters Marketing template is designed mainly for people that need a Newsletters website but it can also be used for other types of websites too.
Our Newsletters website design team can make Aeris | Marketing Newsletter work and look exsactly how you need it too. This product has had more then 124 Sales, which is why it has made it onto our website. The quickest way to setup customize install or fix  Aeris | Marketing Newsletter is by letting Websites Are Us do it for you!
Newsletters Marketing Website Design
Aeris | Marketing Newsletter is a Newsletters Marketing website that can be customised to your own desires Websites Are Us can help build you a Newsletters Marketing website using this template. We have helped 100s of clients build Newsletters websites using themes like this and turn into real websites that stand out from the crowd.
Aeris | Marketing Newsletter is available for sale from Envato Marke and needs to be fully customised to make it look perfect for your Newsletters website, thats where Websites Are Us help out!
How to set up Aeris | Marketing Newsletter in 3 easy steps
It is as simple as that to set up the Aeris | Marketing Newsletter. You can now sit back and relax while our team of professionals WordPress websites developers get to work making Aeris | Marketing Newsletter look perfect on your Newsletters website. 
Websites Theme Installation service
We are a team of talented website developers and help people every day install or customise themes, template for all different types of websites builders.
Our Services Include
If you need help fixing or customizing a theme or template no matter what type of platform it is our Theme Installation Service will get you sorted out in hours not days.
Product information for Aeris | Marketing Newsletter
Below is the full product information, should you like to see more click the blue View Demo Link in the top right-hand corner. Once ordered visit or Theme Installation Service to complete setup and configurations of your new theme. 
We installAeris | Marketing Newsletter Websites Are Us will Install and setup this for you./caption] 
Template Builder by StampReady
Commented HTML.
.sketch file included
Flexible table structure (delete/copy/replace).
Responsive for your mobile device.(native email app)
Able to save your modify template for future use in the StampReady builder
Compatible with FreshMail
Compatible with
StampReady
Advanced lossy compression for all png, jpg images(reduce png,jpg file size 70%)
Compatible with awesome WordPress plunin
Mailster
Please note
Outlook is not support Background image. (more info ) it will replace with a solid background color instead.
1.4 (22.10.2019)
- [Mailster] Fix images expanded in Outlook.
1.3 (18.10.2018)
- Code adjustment.
- [Mailchimp] file is now customizable with Mailchimp template editor(for custom template).
- [Mailster] Fix the text-alignment not working in Mailster editor.
- [Mailster] Fix Mix Content warning for a secure connection user in Mailster file (using all https for all dummy default image).

1.2 (27.08.2018)
- Fix a missing mc:edit tag in StampReady file.
1.1 (21.05.2017)
- Revamp template code, now responsive in Gmail app.
Matah Email Set 36 Unique templates style.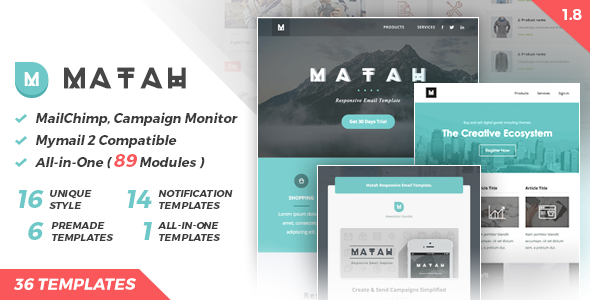 Koble Set with 25 templates and 200+ modules for all in one.